Bus Trips to Citi Field in Flushing, NY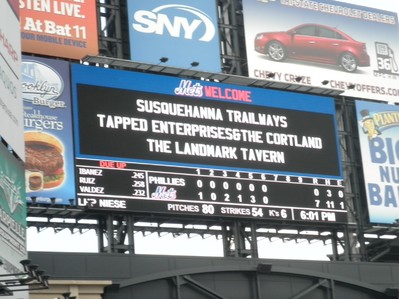 Long Island Transportation Company Specializing in Bus Trips to Citi Field
Unmatched Bus Trips to Citi Field with Tapped Enterprises: Your Gateway to the Home of the New York Mets!
Enjoy the thrill of a game at Citi Field with Tapped Enterprises, Long Island's premier transportation company specializing in transportation to Citi Field. Cheer on the Mets with comfort and style!
Tapped Enterprises Offers Memorable Bus Trips to Citi Field
Imagine the roar of the crowd, the thrill of the game, and the unforgettable energy of Citi Field, all without the hassle of driving or navigating public transportation. Tapped Enterprises is here to turn that vision into reality with our specialty tailored bus trips to Citi Field, home of Major League Baseball's New York Mets.
Tapped Enterprises: Long Island's Premier Transportation Provider
Founded in 2008, Tapped Enterprises has been delivering exceptional transportation services across Long Island, specializing in trips to Citi Field, brewery trips, wine tours, corporate outings, and more. Our family-owned business prioritizes your comfort, safety, and enjoyment above all. With a unique fleet of buses, we're equipped to ensure your trip to Citi Field is seamless and memorable.
Citi Field: The Home of New York Mets
Situated in the heart of Flushing Meadows–Corona Park in Queens, Citi Field is a must-visit location for baseball fans. Since its completion in 2009, this stunning stadium has been the home baseball park for the New York Mets, hosting countless unforgettable moments in baseball history.
Travel in Comfort and Style with Tapped Enterprises to Citi Field
Leave the navigation and transportation concerns to us while you gear up for an exciting day at the game. Our bus trips to Citi Field guarantee a comfortable and enjoyable journey, allowing you to focus on cheering for your team.
But it's not just about transportation. At Tapped Enterprises, we provide a unique, fun-filled group experience that is as much about the journey as it is about the destination. Our trips are perfect for group outings, corporate events, birthday celebrations, or simply a day out with friends and family.
Book Your Unforgettable Journey Today!
Embrace the magic of baseball at Citi Field without worrying about the commute. Tapped Enterprises is here to provide you with reliable, cost-effective, and enjoyable bus trips to Citi Field. So, grab your mitt, put on your cap, and join us for a thrilling baseball experience! Book your trip today with Tapped Enterprises and let's hit the road together.
Services
Get a quote on Transportation to Citi Field